Concrete Crushers
Concrete Crushers
Concrete Crushers | Concrete Pulverizers
---
NPK's Primary/Secondary Concrete Crushers are designed to effectively handle any primary and/or secondary demolition and recycling operation.


NPK concrete pulverizers easily crush through reinforced concrete and cut through light steel structures allowing material to be separated and recycled, and simultaneously, permits easier handling of material.


Maximum crushing/cutting force with more efficiency
Competitive cylinder systems need larger cylinders to equal the force developed by the more compact NPK intensifier system. On the job, NPK's exclusive integral hydraulic intensifier system provides faster cycle times compared to competitive units using larger cylinders that require considerable amounts of flow to produce an equal amount of productivity; thus producing the shortest cycle time in the industry. 


Designed for performance

With the newly improved tooth configuration utilizing a high-profile center tooth and lower profile teeth on both sides of the movable jaw, NPK concrete pulverizers can be used for both primary and secondary crushing operations. Abrasion resistant, high strength, alloy steel teeth provide decreased wear and increased durability. In addition, the "R" models come with full 360 degree power rotation for maximum versatility.


Improved design for easier maintenance

In addition to the bolt-on replaceable tooth plate on the movable jaw, all "A" models now utilize a bolt-on replaceable plate on the corresponding portion of the fixed jaw.  The new design decreases downtime due to repairs while increasing the life of the crusher.  Cutting-torch operations are eliminated by a replaceable high-strength, steel center cutter that slices through rebar and light steel structures.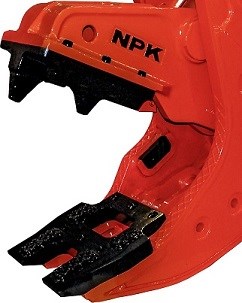 Faster, more efficient separation of concrete and steel rebar
Powerful concrete crushing forces increase when jaws meet resistance, as the exclusive NPK cylinder intensifier converts flow to pressure.


NPK dedicated mounting kits enable concrete crushers to be mounted as 

excavator attachments for carriers within the recommended weight range for each model.  See the Attachment Wizard to determine which NPK hydraulic attachments are compatible with your carrier.


Potential applications include:
Construction and Demolition (C&D) recycling / sorting
Concrete recycling
Commercial demolition
Separating concrete from rebar



Visit and subscribe to NPK's YouTube channel for videos of concrete pulverizers in action!  
Visit NPK's photo website for searchable concrete pulverizer photo galleries!
Visit the Concrete Crusher Publications page for sales brochures and operation & maintenance manuals.
Visit each concrete crusher model page below for additional images and specifications.

If you require a booster service manual or would like a hard copy of the operation and maintenance

 manual, please contact the Sales department at 440-232-7900 or by email at sales@npkce.com.
Image
Model
Recommended Carrier Weight
Rotation

U21JA
42,000 - 62,000 lbs

U21JRA
42,000 - 62,000 lbs
360 degrees

U31JA
62,000 - 106,000 lbs
fixed

U31JRA
62,000 - 106,000 lbs
360 degrees

U45J
90,000 - 110,000 lbs
fixed

U45JR
90,000 - 110,000 lbs
360 degrees

X-4AFR
9,000 - 12,000 lbs
360 degrees

X-4AR
9,000 - 20,000 lbs
360 degrees

X-4AREH
10,000 - 20,000 lbs
360 degrees

X-7AFR
13,000 - 20,000 lbs
360 degrees

X-7AR
13,000 - 31,000 lbs
360 degrees

X-7AREH
13,000 - 31,000 lbs
360 degrees