About Us
Learn More About NPK Construction Equipment
---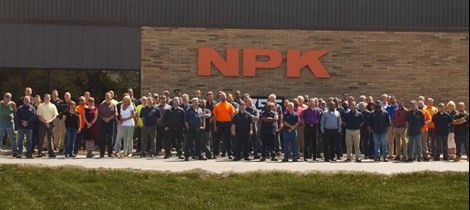 In 1985 Nippon Pneumatic Mfg. Co., LTD of Osaka, Japan partnered with a local group of business associates located in Cleveland Ohio to form NPK Construction Equipment Inc.   
Nippon Pneumatic Mfg. Co. LTD (NPK Japan) was founded in the early part of the 20th century and has been designing & manufacturing construction equipment attachments since the late 1950's. By the mid 1980's, NPK Japan was a well-established, highly reputable manufacturer of Hydraulic Hammers, Crushers, Shears & Pile Drivers.  NPK Construction Equipment, Inc. was established to provide exclusive, distribution & support for the entire western hemisphere. Shortly after its inception, NPK quickly built an extensive Dealer network for product distribution.
In 1989, because of increased demand for product, NPK expanded by adding a fabrication facility. The addition vastly improved NPK's ability to respond to the needs of its customers, transforming NPK Construction Equipment into a full-fledged designer, manufacturer, and assembler of quality products. Currently all Top Mounting Brackets, Hammer Brackets, Compactor Drivers, and Pedestal Boom Systems   are designed, manufactured, and assembled at NPK Construction Equipment Inc. in Walton Hills, Ohio.   All NPK Hammer Power Cells, Concrete Crushers, Material Processors, and Shears are manufactured at Nippon Pneumatic Mfg. Co. in Nabari, Japan.   Every NPK product is designed with high productivity and durability in mind.
The "NPK" trademark has become a symbol for quality products worldwide. A serious commitment to product support enables NPK to maintain a high level of customer satisfaction.  NPK has always operated under the principle to be responsive & provide exceptional service to its dealers and their customers. None of this would be possible without dedicated and devoted employees. Currently the staff at NPK Construction Equipment has grown to over 100 employees, partnered with an extensive dealer support network of over 350 locations. Along with Nippon Pneumatic of Osaka, Japan; NPK Europa in Rotterdam; & NPK Middle East FZCO in Dubai, U.A.E., NPK Construction Equipment continues to expand its market and develop new products to retain its position as an industry leader.