Pedestal Boom Mania
News
Pedestal Boom Mania
---
Monday, April 15, 2019
During the last few weeks of 2018, NPK was bustling to complete a huge pedestal boom order for CEMEX in Mexico that had to be completed before the end of year.  The order consisted of eight pedestal boom systems complete with hydraulic hammers and power units.  The assembly team was working 14 hour days to ensure the booms would reach the border by the December 31 deadline.  Everyone's hard work and dedication paid off and the deadline was met with a couple of days to spare.  Awesome job everybody!
As is standard for all pedestal boom systems sales, NPK staff will be visiting the various plants to ensure that installations and initial startups progress smoothly and the units are functioning properly.  The first install is taking place this week and the others are scheduled over the next several weeks.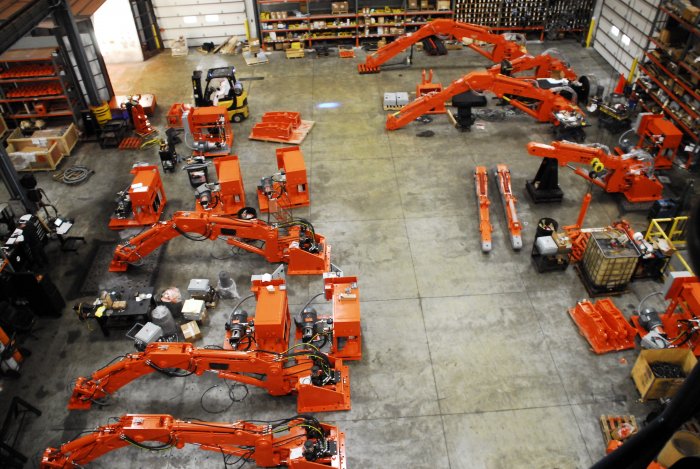 In the past, CEMEX has purchased 10 NPK pedestal boom systems to be used in several of their plants throughout Mexico.  CEMEX is a global building materials company that provides high-quality products and reliable service to customers and communities in more than 50 countries with a presence in the Americas, the Caribbean, Europe, Africa, the Middle East and Asia.  The company launched in 1906 and celebrated 110 years in the industry in 2016!
Annual sales of $13.7 billion in 2017
Leaders in each of the following core businesses: cement, ready-mix concrete, and aggregates
Trade relationships in 100+ nations and one of the world's top traders of cement and clinker
More than 40,000 employees worldwide
As of December 31, 2017
56 plants cement plants (+ 11 cement mills)
92 million tons, annual cement production capacity
1,505 ready-mix concrete facilities
52 million cubic meters, ready-mix concrete annual production level
285 aggregates quarries
147 million tons, aggregates annual production
258 land distribution centers
67 marine terminals