Quick Disconnects
Hydraulic Quick Disconnects
---
NPK QUICK DISCONNECTS...
... make hooking up your NPK C&D attachment a breeze!  Quick disconnects are not only compatible with hammers, they can also be used with compactors, crushers, processors and more!  With the addition of a quick disconnect package to each unit, you can easily swap out multiple NPK attachments onto a single carrier.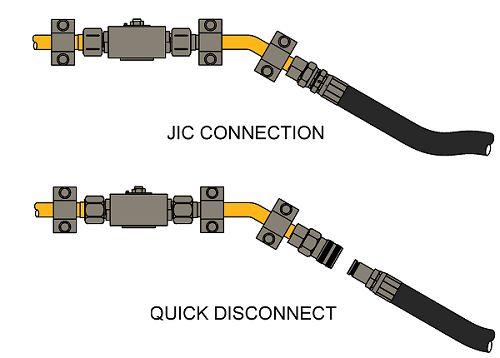 NPK's quick disconnects' unique features make them truly hammer compatible. When the disconnect is assembled and the female coupling nut is tightened the internal poppets are held rigid. Rapid pulsations or flow changes do not move internal parts, typically the source of deterioration in conventional designs. These internal poppets are guided by a long spool section, rather than the usual flimsy supports of lock rings and poppet guides. Also missing are any ball bearings, commonly the cause of failure in high pulsation environments. The generous flow path allows for very low pressure drops, which is revolutionary in coupling design.
In order to ensure the coupling is able to withstand the demanding environment of an attachment like a hydraulic hammer, a small wrench is required to snug the coupling tight. This ensures that the poppets are held rigid. The squared Acme threads allow for easy tightening, mostly by hand.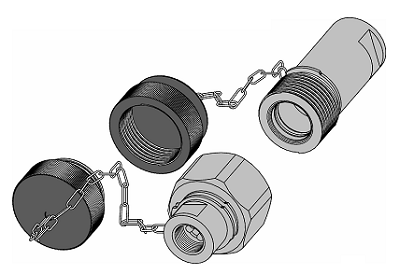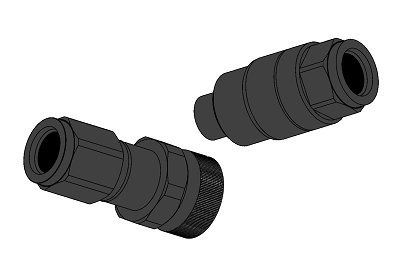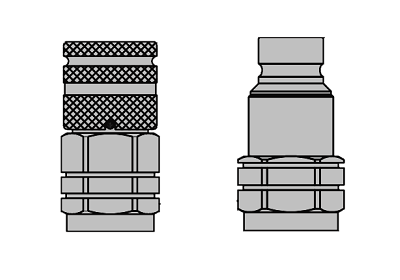 NPK's Quick Disconnects are available in a wide range of sizes to fit just about any NPK attachment.


| Size | NPK Hammer Model | NPK Compactor Model | NPK Crusher Model | NPK Material Processor Model | NPK Demolition Shear Model | NPK Demolition Grab Model |
| --- | --- | --- | --- | --- | --- | --- |
| 1/2" | PH06, PH07, PH1, PH2 | C2D |   |   |   |   |
| 3/4" | PH3, PH4 | C2D, C3D, C4C |   |   | K3JR, K4JR |   |
| 1" | GH6, GH7 | C4C, C6C |   |   |   | DG16, DG20, DG30, DG40 |
| 1 1/4" | GH7, GH9, GH10, GH12, GH15, GH15, GH18, GH23, GH30 | C8C, C10C, C12C | U21J, U21JR, U31J, U31JR, U45J, U45JR | M20, M28, M35, M38 |   |   |
| 1 1/2" | GH40, GH50 |   |   |   |   |   |
 
Appropriate disconnect size for some models may vary based on carrier's hydraulic line size and/or hammer bracket style.