Shield Haulers
Shield Haulers
Material Transporters | Slab Haulers | Coal Haulers
---
Return to / Visit NPKmining.com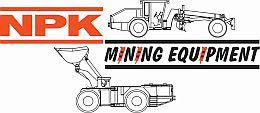 One of the heavier duty vehicles in NPK's underground mining equipment line, the Paus Shield Hauler, also referred to as a Slab Hauler,  Coal Hauler, or Material Transporter is equipped with a front-mounted loading platform for transporting large loads throughout and in and out of the mine.  


The Paus Underground Shield Hauler is designed with a front end reinforced cutting edge, to be lowered beneath the ground level and lifted via hydraulic cylinder with mounting eyelets on the outsides of the structure.
Hydrostatic drive.
High payload with a low profile.
Available with explosion protection in compliance with ATEX-M2.  Electrical components such as the display, battery, headlights, and switched are all explosion-proof.
Visit and subscribe to NPK's YouTube channel for a video of underground shield haulers in action!  
Visit NPK's photo website for searchable underground slab & coal hauler photo galleries!
Visit the Shield Hauler Publications page for sales brochures.
Visit the material transporter model page below for additional images and specifications.