Dust Suppression
Dust Suppression Kits
---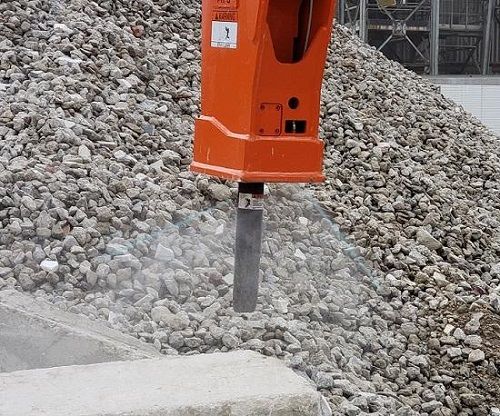 NPK now offers an add-on, water-ready dust suppression kit for PH1 - PH4 hydraulic hammers in redesigned enclosed brackets.  This system reduces dust at the point of impact in concrete, rock, or whatever surface is being broken, improving visibility at the breaking site and in the surrounding area. 
Silica dust, released when breaking concrete, can be significantly reduced through the use of wet methods.  NPK's water-ready hammers not only help to meet OSHA silica dust reduction regulations (1926.1153), but also make working environments safer by reducing concentrations of silica in breathing air and minimizing workers' exposure.
An integrated water spray nozzle eliminates the need for manual spraying.  Located in the bracket of the hammer, the nozzle is aimed at the point where the hammer's tool makes contact with the breaking area.  This, combined with a wide spray angle, provides maximum dust suppression coverage. 
This kit helps to control airborne dust / silica in two ways.  Upon breaking, particles are sprayed with mist; this mist combines with particles which increases weight and leads them to drop back to the ground.  Secondly, the mist douses the breaking area prior to impact, thus reducing the amount of dust generated.
Easy access for servicability
Hinders dust from rising back into the tool bushing
Ready to be connected to water supply
Impact Energy Class:  350-1,300 ft. lbs.
For mini-excavators, backhoes, or skid steer loaders with carrier weights ranging from 2-9 tons
Visit the Hammer Accessories Publications page for sales brochures and operators manuals.

---